'It takes a village to raise a child' – African proverb.
Southport Golf Club recognises that the future of any family, organisation, sporting club or country rests in the hands its youngest members.  However, securing that future for our youngest is the responsibility of parents, carers, teachers, coaches, and the community at large.
The 50+ young members enrolled in the Southport Golf Club Juniors Squad, with support from their family, friends and club members are, without doubt, the future of the Southport Golf Club.
Although our juniors' program is not designed to create elite golfers, this is very often a gratifying and enriching by-product for both the Club and the individual.  Many of our juniors, both boys and girls, have grown to become professional golfers.
However, the fundamental role of our Juniors program is to introduce young men and women to the game of golf, to have them and their families share in the social aspects of the game and to reinforce the values of respect for social etiquette upon which the great sport of golf is built.
The cornerstone of the Southport Golf Club Juniors Program is the teaching professionals and staff who each deliver 'above and beyond' throughout the year to nurture the future of our club – our Juniors.
Together with the team in the Pro Shop and several member volunteers some wonderful outcomes are achieved each year and, as we move toward our Centenary year (2024), we plan to continue to build on that success to set new benchmarks in Junior Golf Programs in Queensland and Australia.
As the leading member-owned Club on the Gold Coast, Southport Golf Club is a leader in junior development. The 3-level program encourages juniors to work through the levels as their golf and athletic skills develop. It is at the sole discretion of the Professionals to assess each junior to determine if they are ready to progress to the next level.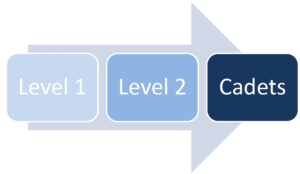 The junior golfers will be guided by Head PGA Professional Ben Campbell, who has over 15-years of experience, and Assistant PGA Professional Mitch Wilson. The team encourages juniors to come down and have a go in our fun and relaxed environment.
Level 1 juniors are taught the basic fundamentals of golf. The coaches teach juniors the correct grip, set-up and swing-path. This is established throughout their entire game, with the lessons focusing on their putting, chipping and long game. Progression to Level 2 sees juniors apply Level 1 knowledge to more challenging environments. Level 2 juniors are given more difficult tasks to execute, with a key focus on real-game situations. Level 2 juniors are also given experience on-course and taught the etiquette of golf.
The next step for junior golfers is to reach a level of proficiency where they can become a cadet. A Golf Australia handicap is obtained then club and junior competition can begin. This allows juniors to partake in club events and continue to use the outstanding facilities the club has to offer.
The more advanced junior golfers are invited to play in our junior Inter-Club and Pennant competitions. These are for juniors with high levels of skill, and we introduce the juniors to Match play competition which is an exciting and challenging format.
6.30am – Cadets
7am – Level 2
8am – Level 1a
9am – Level 1b
Click Here
Mid-Week
Junior
Development
Program
Term 3 – 2023
Click Here
Like to join the Southport Golf Club Juniors Squad?
If you have any questions regarding Junior's membership, including the relevant joining fees, the process of becoming a junior member or to obtain an application form, please contact our office:
Tel:       (07) 5571 1444